Support letter for Albert Carreras and Andreu Mas-Colell
Marianne Bertrand - Lliçó Inaugural d'economia 2021
"Gender Inequality in the Labor Market"
News
News
Back
Fernando Guirao receives the Joan Sardà Dexeus 2021 award for the best book on Economics and Business
Fernando Guirao receives the Joan Sardà Dexeus 2021 award for the best book on Economics and Business
Honours and awards were presented by the College of Economists of Catalonia to Fernando Guirao, Albert Carreras, and Miguel Benítez from the Department of Economics and Business community
29.10.2021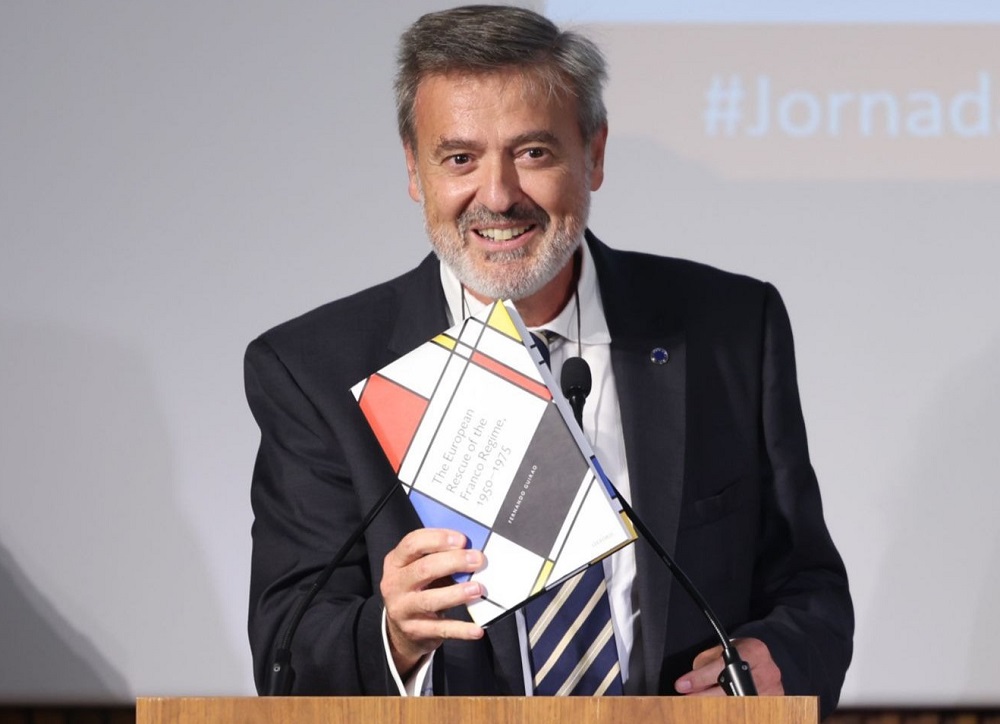 At the presentation of this year's College of Economists of Catalonia (CEC) Economist Awards, Fernando Guirao, professor in the UPF Department of Economics and Business, received the award for best book on economics and business. Albert Carreras, a department professor as well as director of ESCI-UPF, was honoured as a Collegiate of Merit. UPF alumni Miguel Benítez was also recognised amongst the Best University Curricula. The ceremony and awards were presented by Oriol Amat, dean of the CEC, a professor in the department, and rector of the UPF.
The honours and awards were announced at the 2021 Economist Awards, which took place at the CEC headquarters and was chaired by Jaume Giró, Minister of Economy and Finance of the Government of Catalonia. The ceremony was the preamble of the 26th Economists Day, scheduled for four different days in November across four cities of Catalonia and under the title "The post-Covid economy and society".
Fernando Guirao, UPF Jean Monnet Professor of History, received the Joan Sardà Dexeus award in recognition of his new book "The European Rescue of the Franco Regime, 1950-1975". The work, to which Prof. Guirao devoted ten years to complete, explains how the founding government members of the European Coal and Steel Community and the European Economic Community implemented a set of political and economic measures that helped to guarantee Franco's rule.
Albert Carreras, Professor of History of Economic Institutions and director of ESCI-UPF, was named Collegiate of Merit, an award that recognises professionals from the world of economics for their contributions. As a member of the CEC since 2018, Prof. Carreras has regularly collaborated with the organisation's activities, especially within the Catalan Economy Commission.
Finally, in the category for Best University Curricula, one top student was selected from each of the twelve Catalonian university economics faculties. Miguel Benítez, Department of Economics and Business alumni (2017-2020), was awarded from the UPF. Miguel is currently attending the London School of Economics (LSE) General Course.
Multimèdia
Multimedia
Multimedia
Categories:
Advertisements
Advertisements
Studies
Estudiants matriculats 2021-2022
698
Degree in Business Administration and Management
481
Degree in Business Sciences - Management
374
Degree in International Business Economics
515
Doble grau Dret/ECO-ADE
202
Grau en Tecnologies Industrials i Anàlisi Econòmica
22
Master of Research in Economics, Finance and Management (MRes)