Support letter for Albert Carreras and Andreu Mas-Colell
Marianne Bertrand - Lliçó Inaugural d'economia 2021
"Gender Inequality in the Labor Market"
News
News
Back
Departmental Seminar presented by Marianne Bertrand highlights gun violence intervention work
Departmental Seminar presented by Marianne Bertrand highlights gun violence intervention work
The READI initiative hopes to influence the behaviour of 2,500 young men in Chicago and prevent them becoming shooting victims or perpetrators
01.11.2021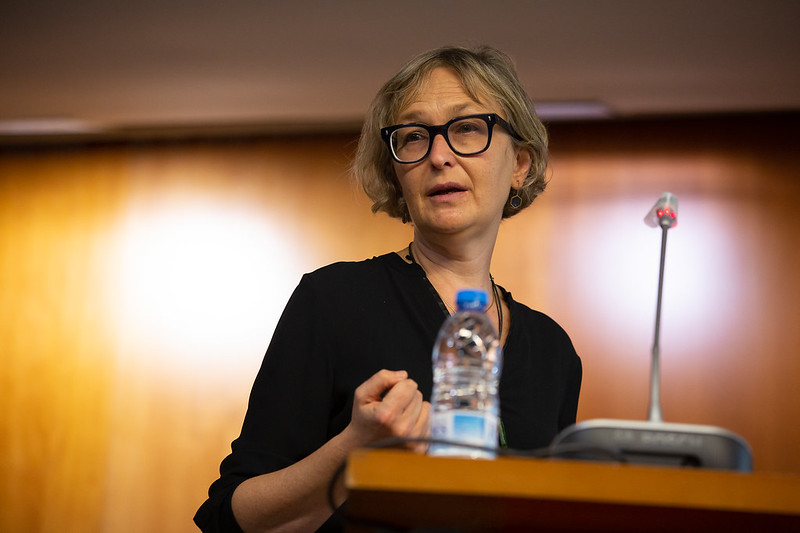 This past October Marianne Bertrand from the University of Chicago Booth School of Business presented a Departmental Seminar on her latest research entitled "Predicting and Preventing Gun Violence: Experimental Results from READI Chicago". Prof. Bertrand is also a Research Fellow at the National Bureau of Economic Research, the Center for Economic Policy Research, and the Institute for the Study of Labor.
The Rapid Employment and Development Initiative (READI) Chicago project is a randomised controlled trial of a new intervention for those at the highest risk of gun violence, designed to test a different, social service-based approach. Prof. Bertrand's talk presented early results on a study that seeks to identify individuals most likely to be involved shootings — either as victims or perpetrators — and change their behaviour.
Homicide in the U.S. kills more young African-American men than the next nine leading causes of death combined. Despite the extremely high social cost of gun violence, only a few interventions have attempted to change the behaviour of the persons most likely to be victims or perpetrators in shootings. Even fewer have been well evaluated, and those few have been almost entirely focused on law enforcement.
READI's goal is to identify 2,500 local men at the highest risk using three different methods: a) machine learning predictions based on administrative arrest and victimisation records; b) referrals from street outreach staff who work in the relevant neighbourhoods; and c) screening amongst those leaving prison and jail. The initiative then provides them with 18 months of supported, subsidised work alongside cognitive behavioural therapy and personal development programming.
Prof. Bertrand presented how well the prediction method has been at anticipating actual shooting and violence involvement, as well as initial impact results on serious violence involvement. Participating in READI Chicago may reduce shootings and homicides by 32%, according to early analysis of programme outcomes at 20 months. This finding seems primarily driven by a large, consistent, and statistically significant reduction of 80% in shooting and homicide arrests for participants.
Find out more about upcoming seminars in the Department's calendar by visiting the Seminar Series section.
Multimèdia
Multimedia
Multimedia
Categories:
Advertisements
Advertisements
Studies
Estudiants matriculats 2019-2020
680
Degree in Business Administration and Management
503
Degree in Business Sciences - Management
373
Degree in International Business Economics
513
Doble grau Dret/ECO-ADE
120
Grau en Tecnologies Industrials i Anàlisi Econòmica
22
Master of Research in Economics, Finance and Management (MRes)