Back Timo Sohl wins 2018 Corporate Strategy IG Best Proposal Award from the Strategic Management Society
Timo Sohl wins 2018 Corporate Strategy IG Best Proposal Award from the Strategic Management Society
UPF Department of Economics and Business professor receives Best Proposal Award at this year's Strategic Management Society Annual Conference in Paris
17.10.2018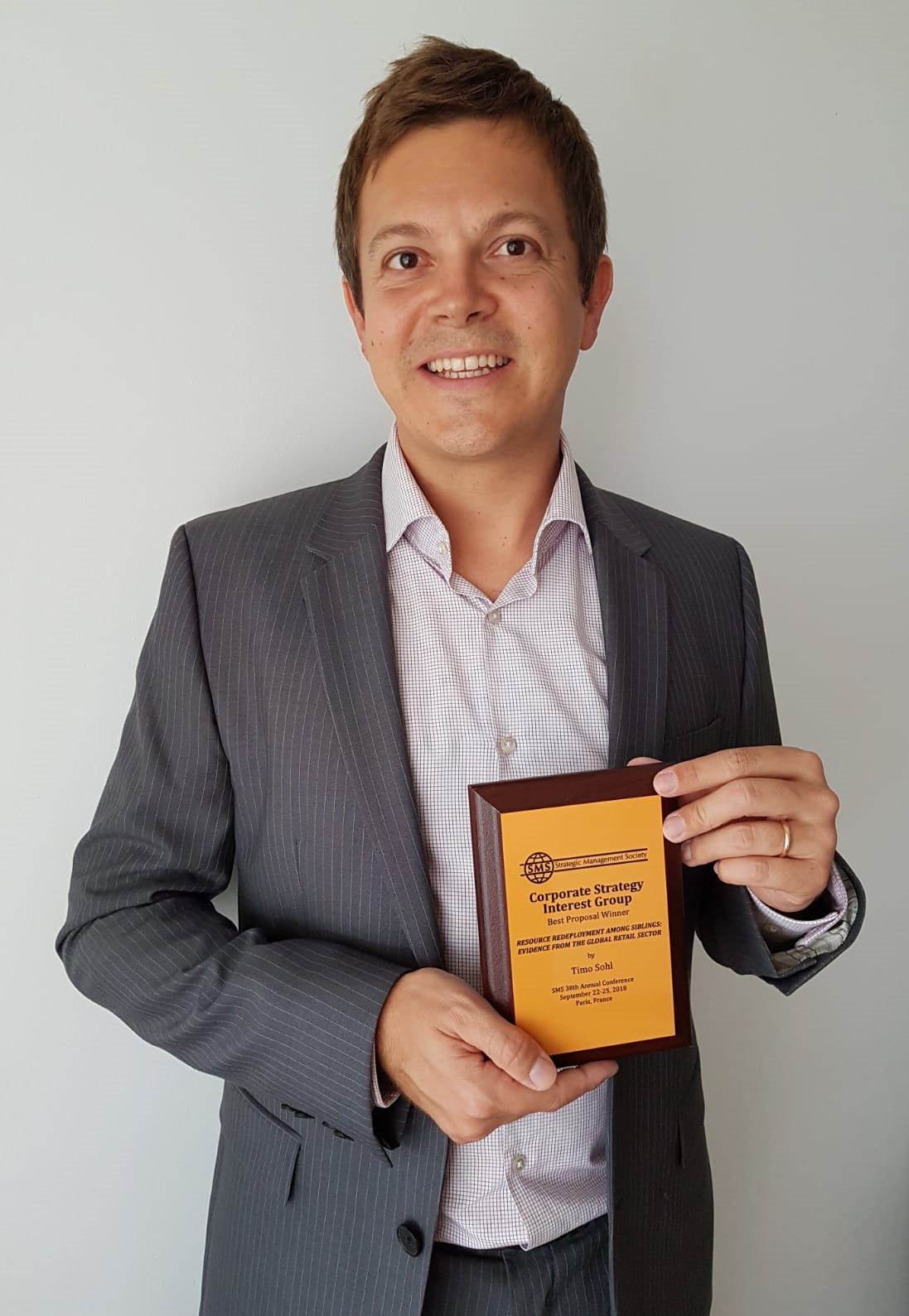 UPF Department of Economics and Business professor Timo Sohl recently won the Best Proposal Award of the Corporate Strategy Interest Group from the Strategic Management Society (SMS). The SMS Annual Conference is the largest and most prestigious conference in the field of Strategic Management.
The Corporate Strategy IG considers the decisions, actions, and outcomes associated with an organization's portfolio of business lines. Each year the Corporate Strategy IG selects the best paper proposal submitted for presentation at the SMS annual conference.
Prof. Sohl's winning paper, co-authored by Timothy Folta of the University of Connecticut and titled "Resource Redeployment Among Siblings: Evidence from the Global Retail Sector", examines how factors that encourage resource redeployment influence market exit decisions of horizontally diversified firms.
Using panel data on 3,082 businesses (chains) from the retail sector in 106 country divisions from 1997 to 2010, the authors focus on the potential for redeploying location-bound resources (retail stores) among sibling chains. The results show that chains are more likely to exit when they have more-related — as opposed to less-related — sibling chains in their country division.
This effect is accentuated in countries with greater market frictions, such as poorer regulatory quality for market transactions, and when chains perform poorly relative to their siblings. The study also finds that the store growth of remaining chains is positively associated with the number of stores of their more-related—as opposed to less-related—exiting siblings.
Find out more about Prof. Timo Sohl on his personal website.
Multimedia
Categories:
Contact
Studies
Estudiants matriculats 2021-2022
698
Degree in Business Administration and Management
481
Degree in Business Sciences - Management
374
Degree in International Business Economics
515
Doble grau Dret/ECO-ADE
202
Grau en Tecnologies Industrials i Anàlisi Econòmica
22
Master of Research in Economics, Finance and Management (MRes)