News
News
Back
Albert Carreras appointed new director of the ESCI-UPF
Albert Carreras appointed new director of the ESCI-UPF
He is an economist and professor of History and Economic Institutions in the UPF Department of Economics and Business, with a broad academic career and experience teaching abroad
19.07.2019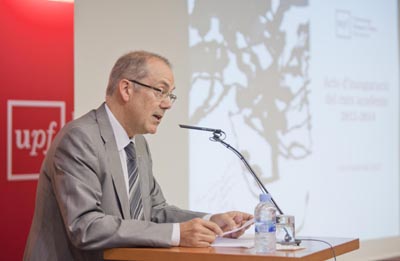 Meeting this past July 9, the Board of Trustees of the Escola Superior de Comerç Internacional (ESCI-UPF) International Business School – an associate centre of the UPF – officially appointed professor Albert Carreras as the new director of the institution. Prof. Carreras is an economist and professor of History and Economic Institutions in the UPF Department of Economics and Business.
With Prof. Carreras' appointment, the directorship of Prof. Xavier Cuadras comes to a close. Prof. Cuadras headed the institution for more than 14 years, and left the ESCI-UPF community last May when he was appointed director of the Statistical Institute of Catalonia.
Albert Carreras de Odriozola (Barcelona, ​​1955) has served as Secretary of Economy and Finance (2011-2013) and Secretary General of the Department of Economy and Knowledge (2013-2016) in the Government of Catalonia. He holds a PhD in Economics and Business Studies from the Autonomous University of Barcelona – ​​an institution where he worked as a professor – together with the University of Barcelona.
At the UPF, which he joined in 1991, he has held the posts of director of the Department of Economics and Business (1996-1997); Vice Chancellor of Teaching, Programming and Evaluation (1997-1999); Vice Chancellor of Teaching, Doctorate and Programming (1999-2001); and Dean of the Faculty of Economics and Business Administration (2008-2011). He is also an affiliate at the Barcelona Graduate School of Economics.
Outside of Catalonia, he has taught at the European University Institute in Florence (1989-1994), where he directed the Department of History and Civilization (1991-1992); and in the USA he was both a "Prince of Asturias" Professor at Georgetown University (2007-2008) and visiting professor at the University of California at Berkeley.
His lines of research focus on economic history, business history, quantitative history, and climate change. He has presided over the organising committee of the European Economic Association and Econometric Society European Meeting, as well as the Research Council of the European University Institute and the European Business History Association.
He has been a member of the Editorial Board of the Business History, Enterprise & Society Magazine, Journal of Economic History, Journal of Iberian and Latin American Economic History, and Journal of Industrial History. He is the author of over one hundred academic publications, and author or editor of twelve books, including works such as Economic History of Contemporary Spain (1789-2009) (2010).
Multimèdia
Multimedia
Multimedia
Categories: