News
News
Back
Francesco Cerigioni awarded prize for outstanding PhD thesis
Francesco Cerigioni awarded prize for outstanding PhD thesis
UPF Professor of Economics receives Social Science prize for 2016 doctoral work
24.01.2018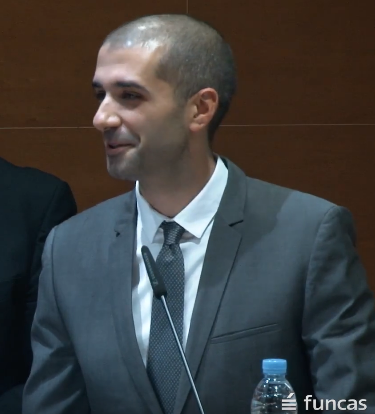 In December 2017, UPF Professor of Economics Francesco Cerigioni was awarded an Enrique Fuentes Quintana prize in the category of Social Sciences from the Funcas Foundation for his exceptional doctoral thesis. Prof. Cerigioni recieved his PhD from Universitat Autònoma de Barcelona (UAB) in 2016.
A jury for the academic year 2015-2016 selected Prof. Cerigioni's thesis, entitled "Familiarity and Choice", out of around 700 total submissions for the awards. Awards are endowed with a prize of €5,000 and publication of the thesis in the foundation's Estudios de la Fundación collection.
Prof. Cerigioni's thesis studies the channels through which familiar experiences influence individual behavior through automatic psychological processes, with the aim of getting a clearer understanding of some puzzling economic phenomena. In particular, the research focuses on (i) how familiar experiences influence individual behavior through similarity comparisons, and, (ii) how familiar experiences influence individual behavior through the effect of exposure on the perceived value of the alternatives.
The Enrique Fuentes Quintana Awards have been presented since 2007, and recognise top doctoral theses in four categories for their excellence and rigorous work. The four categories are: Social Sciences, Health Sciences, Humanities, and Engineering, Mathematics, Physics, and Architecture. Enrique Fuentes Quintana was a prominent Spanish economist in the second half of the twentieth century, who served as Spanish Deputy Prime Minister for Economic Affairs and also founded several prestigious economic journals.
Find out more about Prof. Cerigioni on his personal website.
Categories: