News
News
Back
UPF Business and Economics degree programmes ranked #40 globally by Times Higher Education University Rankings
UPF Business and Economics degree programmes ranked #40 globally by Times Higher Education University Rankings
The UPF is the only Spanish university in the global top 50 for Business and Economics degrees
11.10.2017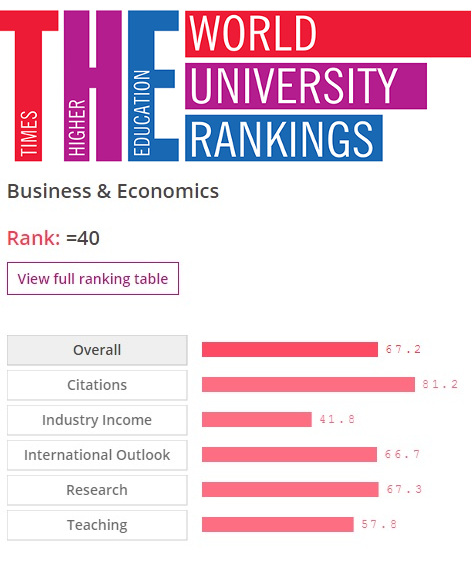 The UPF Department of Economics and Business has been ranked #40 globally for its Business and Economics degrees by the Times Higher Education World University Ranking, a ranking that lists the top 1,000 universities in the world by study areas.
The Department's position has risen since last year, when it was ranked at #48. Several of its academic metrics have notably improved, particularly the indicators for citations (81.2 points this year, +6.2 since last year), international outlook (66.7 points, +4.8), and research (67.3 points, +8).
The citations metric measures research influence, and looks at a university's role in spreading new knowledge and ideas. International outlook is the ability of a university to attract undergraduates, postgraduates, and faculty from around the planet. The research indicator measures paper volume, grant income, and reputation, and gives a sense of a university's ability to publish in quality peer-reviewed journals.
The Department's rank at #40 makes the UPF the only Spanish university in the global top 50 for Business and Economics degrees. The UPF was ranked overall in the 151-175 bracket for studies in Social Sciences.
Categories: