Atrás
Andrei Shleifer delivers kickoff lecture for the 2017-2018 academic year
Andrei Shleifer delivers kickoff lecture for the 2017-2018 academic year
The 28th annual Lliçó d'Economia emphasised the importance of education and human capital in economic growth
27.10.2017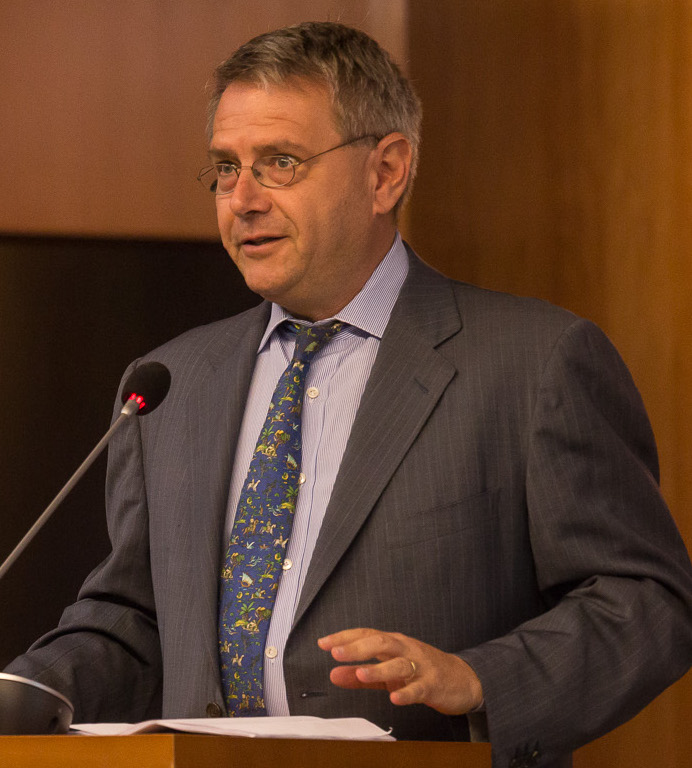 "Educated Entrepreneurs" was the title of the opening Economics Lesson 2017-2018, delivered by Andrei Shleifer, Professor of Economics at Harvard University. The presentation, which served to kickoff the 2017-2018 academic year for the UPF Faculty of Economics and Business Sciences, is the 28th annual "Lliçó d'Economia" commencement lecture.
The academic event took place on October 25 in the auditorium of the Ciutadella campus and was attended by students and faculty alike. Cristina Gelpí, Vice Rector of Teaching Projects, presided over the event, accompanied by Prof. Walter García Fontes, Dean of the Faculty of Economics and Business Sciences, and José Luis Urbieta, General Director of Support Units and CFO of Grupo Esteve, a collaborating entity of the lecture.
Prof. Shleifer's lecture emphasised the importance of education and human capital in economic growth. "When we try to understand the sources of economic growth, we see that human capital seems to be the main one, but in recent years this fact is being questioned," he lamented.
According to Prof. Shleifer, it should not be forgotten that people like Bill Gates, Jeff Bezos, and Mark Zuckerberg have something important in common: they are highly qualified entrepreneurs. He then put forth several examples showing how entrepreneurial human capital makes a difference, and that the level of peoples' training determines whether growth is faster or slower.
Prof. Shleifer noted that innovations made by entrepreneurs which are imitated and standardised improve wealth, create jobs, and raise wages, as well as help create social capital and improve the efficiency of the public sector. "Persistence in education is even more decisive than persistence in democratic institutions," he said.
At a more local level, he pointed out that the most dynamic and fastest-growing cities with the highest average salaries are those with the most qualified people. On the other hand, human capital imbalances are what determine the differences between regions, saying that "growth patterns are easier to understand once we recognise the fundamental role of entrepreneurs with a high level of training."
During his presentation, Prof. Shleifer cited research by a UPF PhD alum on the economics of human capital. "The Mission: Economic Persistence, Human Capital Transmission and Culture in South America" was written by Felipe Valencia Caicedo, UPF class of 2015. Prof. Valencia Caicedois now Assistant Professor of Economics at Bonn University.
Prof. Shleifer received his PhD from MIT. Prior to joining Harvard in 1991, he taught at Princeton University and the Chicago Business School. He won the John Bates Clark Medal from the American Economics Association in 1999.
He has worked in areas of comparative corporate governance, law and finance, behaviour financing, and institutional economics. He has published six books, and according to the Research Papers in Economics (RePEc) database he is the world's most cited economist.
Click here to read more about Prof. Shleifer's lecture at the UPF
Multimèdia
Multimedia
Multimedia
Categorías: