Back
BARG research group hosts webinar analysing optimisation of logistics in home health- and social-care
BARG research group hosts webinar analysing optimisation of logistics in home health- and social-care
The event presented perspectives on using qualitative analysis and technology to improve modern patient home care
15.04.2021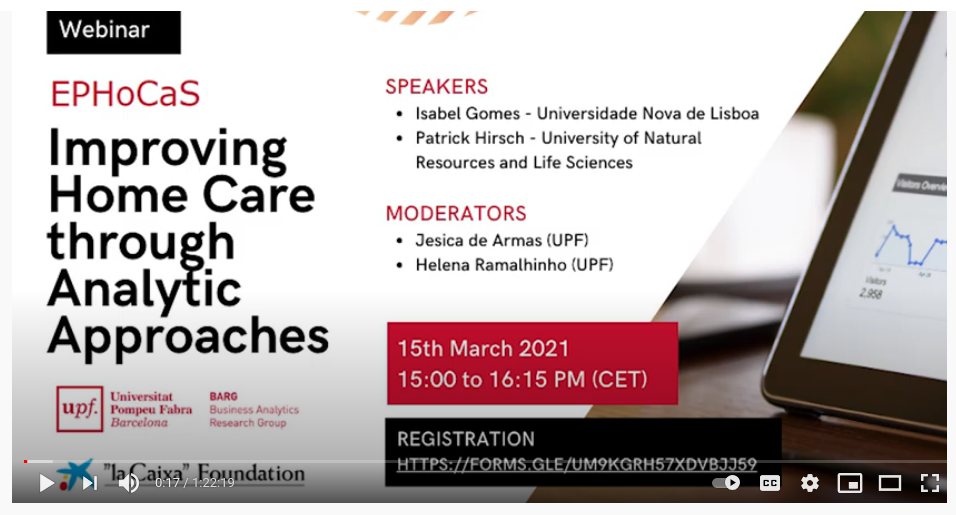 Held on March 15, the virtual conference "Improving Home Care through Analytic Approaches", hosted by the Business Analytics Research Group (BARG), offered a fresh look at the concept of improving patient health- and social-care. The webinar was moderated by Jésica de Armas, principal investigator of EPHoCaS, and Helena Ramalhinho, BARG Director. The conference also featured insights from Patrick Hirsch and Isabel Gomes.
Jésica de Armas, Associate Professor at the Department of Economics and Business and EPHoCaS lead researcher, opened the talk. As she explained, the provision of quality integrated home care for aging patients calls for a qualitative, multipronged approach, involving at least four distinct stages of implementation: 1) optimisation of the supply chain of equipment and appliances; 2) stringent synchronisation of caregiver schedules; 3) dynamic and efficient caregiver transportation; and 4) optimisation of the health-social mobility for the aging population.
Patrick Hirsch, Associate Professor at the Institute of Production and Logistics, University of Natural Resources and Life Science Vienna, then weighed in on the prevailing trends in in-home care, and inherent routing and scheduling problems. Prof. Hirsch observed that the overall uptake of home care has increased significantly, and this has translated into a strain on available resources, notably human resources. He offered the concept of meticulous scheduling as a possible solution to this problem, adding that technology could offer a potentially permanent solution.
Finally, Isabel Gomes, Associate Professor and Researcher in the Operational Research Group of the Center for Mathematics and Applications at the Universidade Nova Lisboa, then offered her perspective on the challenges facing service planners in Portugal. Prof. Gomes decried the minimal use of technology in the scheduling of caregivers, observing that the practice still relies heavily on traditional methods of information management such as pencil and paper.
Together, the speakers offered an array of perspectives from Spain, Portugal, and Austria on the overall value of analytics in the field of patient home care and management. Through critical analysis the webinar compared these perspectives and noted the potential gains of harnessing modern technology.
Watch the full video or read more about BARG and EPHoCaS.
Multimèdia
Multimedia
Multimedia
Categories: