News
News
Back
ERC Starting Grants awarded to Profs. Ruben Durante and Antonio Penta
ERC Starting Grants awarded to Profs. Ruben Durante and Antonio Penta
Two Economics professors have won European funding to conduct research projects lasting up to five years
20.09.2017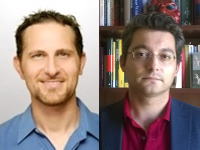 The UPF Department of Economics and Business is excited to announce that two Economics professors have been awarded European research funding. Profs. Ruben Durante and Antonio Penta have each won European Research Council (ERC) Starting Grants in order to establish research teams and to conduct projects that can last up to five years. Both professors were selected for granting under the ERC panel "Individuals, Institutions and Markets: Economics, finance and management" within the Social Sciences and Humanities domain.
ERC Starting Grants can be as high as €1.5 million total, and are awarded to researchers with two to seven years of post-PhD research experience and a scientific track record showing great promise. The grants encourage young academics to become independent research leaders by building teams and engaging with postdocs, PhD students, and ERC team members.
Prof. Durante's ERC project is titled "Independence and quality of mass Media in the InteRnet AGE (MIRAGE)", and will focus on how the Internet has transformed the way of producing and disseminating news, both directly and through its influence on traditional media. He will also study the effect that the network has had on media independence and the quality of content.
Prof. Durante's past research includes examining the evolution of advertising, media, and politics in Italy, for which he was awarded the 2017 American Economic Journal (AEJ) Best Paper in Applied Economics award.
Prof. Penta will lead an ERC project titled "Strategic Uncertainty in Economic Environments and Digital Marketing Agencies", to be undertaken in three parts: First, in collaboration with UPF Prof. Larbi Alaoui, Prof. Penta will examine the interactions between the incentives, cognitive abilities, and strategic behaviour of individuals. Then he will use a theoretical approach to study strategic uncertainty problems in economic environments and situations of social interaction. Finally, he will study the impact of the diffusion of digital marketing agencies and auctioning formats used to sell advertising space online, a booming system used by large multinational corporations.
Prof. Penta has only recently joined the Economics and Business department, having come to the UPF from the University of Wisconsin where he has taught since 2010.
Three UPF professors total received ERC support, the most out of all Spanish institutions. The winning UPF professors were among the 406 researchers selected out of 3,085 proposals submitted during the 2017 EU-wide call. In 2016 economics professor Giacomo Ponzetto was also awarded an ERC Starting Grant.
Click here see a list of all current and past Department of Economics and Business ERC grantees.
Categories: