Back Raj Chetty explores use of big data in enhancing economic opportunity
Raj Chetty explores use of big data in enhancing economic opportunity
Renowned economist, Harvard University professor, and founding director of Opportunity Insights, Prof. Chetty shared groundbreaking research on economic opportunity at the year-end Departmental Seminar
21.06.2023
At the final Departmental Seminar of the 2022-2023 academic year, the UPF Department of Economics and Business warmly welcomed Raj Chetty, the William A. Ackman Professor of Economics at Harvard University and founding director of Opportunity Insights, to deliver a talk on his groundbreaking research on social mobility.
The seminar, titled "Creating Equality of Opportunity: New Insights from Big Data," took place on May 24th and received a positive response from an audience of over 80 students and faculty members from the university's Economics community. Chetty discussed his work and the methods employed to study the science of economic opportunity, with the primary aim of identifying the most effective strategies for promoting economic equity among all citizens.
Chetty's presentation highlighted results and implications from a randomized controlled study involving recipients of housing vouchers. The programme provided a range of resources to families designed to facilitate relocation to areas offering greater economic opportunities. These resources included information, short-term financial assistance, personalized support, and connections to landlords.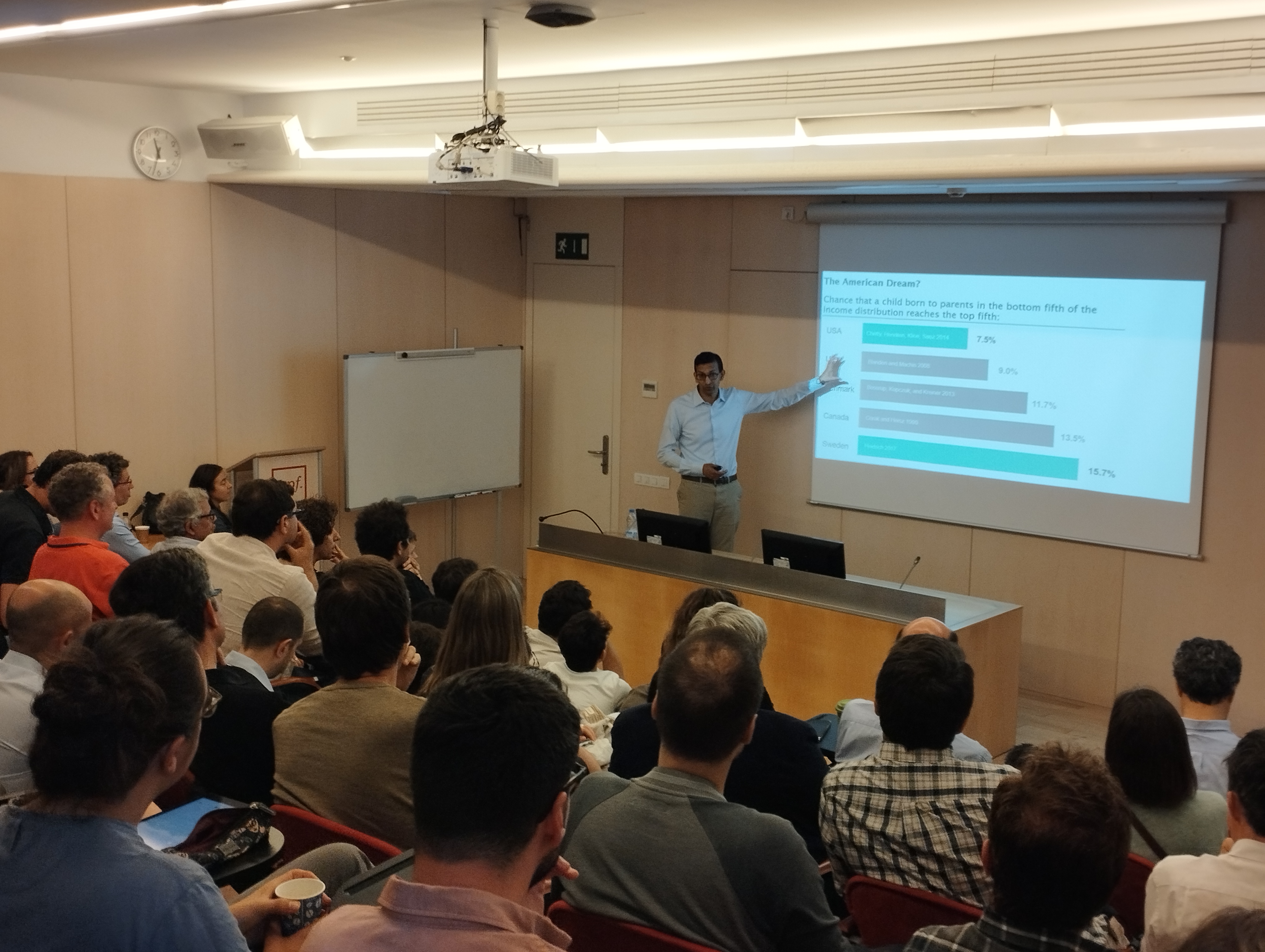 The intervention demonstrated a significant increase in movement from the groups receiving support. By implementing a comprehensive "bundle of resources" intervention, the number of families moving to high-upward-mobility areas rose from 15% in the control group to 53% in the treatment group. Chetty backed his findings with empirical evidence, revealing that many low-income families do not necessarily choose to remain in low-opportunity areas. Instead, barriers in the housing search process play a significant role in perpetuating residential segregation based on income.
Prof. Chetty is a distinguished economist at Harvard University, where he has made substantial contributions to the field of Public Economics. He obtained his PhD in Economics from Harvard in 2003 and has held teaching positions at UC Berkeley, Stanford, and Harvard, where he has been a professor since 2009. Throughout his career, Prof. Chetty has garnered numerous accolades and awards, including the MacArthur Fellowship in 2012 and the American Economic Association's John Bates Clark Medal in 2013. His research primarily focuses on public finance, economic mobility, and inequality. Additionally, Chetty has published extensively in journals such as Science, the Journal of Political Economy, and the American Economic Review. Prof. Chetty is also the director and co-founder of Opportunity Insights, a nonpartisan research and policy institute dedicated to enhancing economic opportunity.
Multimedia
Categories:
Contact