18.06.2013
PUCP's Human Rights Master Degree opens admissions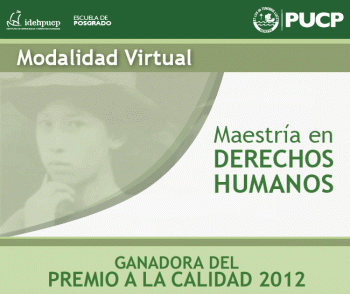 The virtual Human Rights Master programme at PUCP is receiving admissions from June 17th until July 4th. This programme is aimed at undergraduated students coming from any discipline interested in improving their knowledge in the field of Human Rights. As well as that, this is an excellent opportunity for students who are not able to attend regular in-class teaching.
This virtual programme keeps the quality of the in-class teaching offer and demands the same effort. It has been thought to provide interdisciplinary teaching, fostering a structured discussion among various approaches containing aspects related to democracy and Human Rights. In this respect, this Master Degree focuses on educating high-profile professionals, empowering them with the most advanced tools in these field to have an impact on the development of their own enviornments.
To apply for this programme, there is an application fee of S/. 350.00. This payment can be done from June 17th until July 5th. Regarding tuition fees, there are several funding modalities (this information can be found here).
The required application documents are in this
site
. These documents must be presented as hard copies in the Admissions Office (PUCP Campus) from July 8th and July 11th (9:00am - 12:30p.m; 3:00pm - 5:00pm). Candidates applications will also be assessed throughout the interviews that will take place on July 16-17. Interviews will be either face-to-face or online depending on where candidates are located.
Apply now for this Master Degree here.
Elizabeth Salmón Gárate, Director of the Master Degreein Huamn Rights, invites you to participate in this programme.